In the north, near the border with Angola in the province Kaokolend lives striking Himba tribe. In recent years they have become from time to time to allow people to come from "outside" world, and after a few reports about them appeared in the world's biggest magazines and on Discovery, there were many willing to go to their villages. Attracts visitors to one thing: great beauty and singular, strange grace of Himba women.
Lucah sikit gambar ni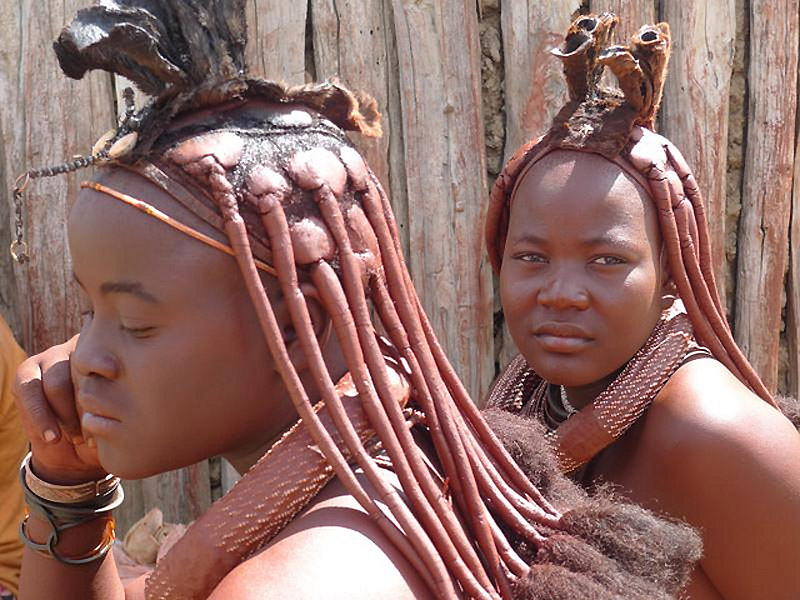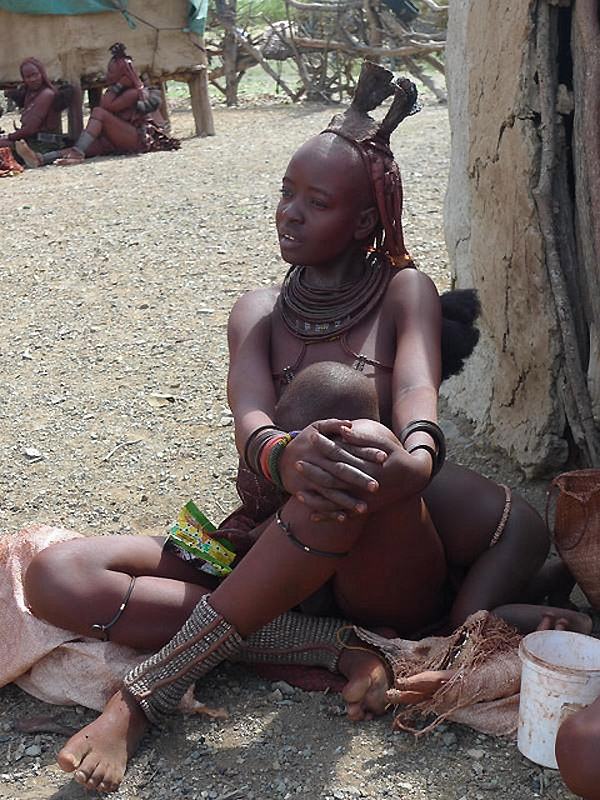 1.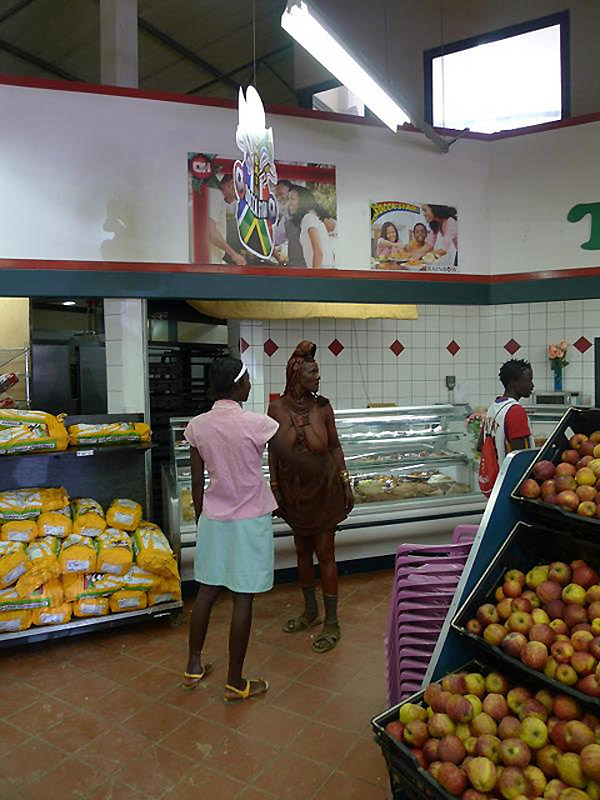 2. In fact, this in Africa today is almost never find: a completely primitive life was for these people naturally, is not ostentatious. This is not East African Masai, who for decades practically live levies from passing tourists as a major fishery, and run headlong to change into a "primitive" clothing, barely seeing the horizon sweet dust from under the wheels of a tourist bus. A Himba are actually: are semi-settled, semi-nomadic tribal existence in the zones are almost completely barren desert, in conditions of severe water shortages. Not because they "failed to make their way to civilization, but because today prefer to live that way and do not need almost nothing of what they do not and never was. Himba people really are what they can see the new arrival. And the first meeting was held with us the day before the scheduled visit to the tribal village: in a tiny town Opuvo, the capital Kaokolenda, we met a lady, as if nothing had happened yavivshayasya in supermarket shopping.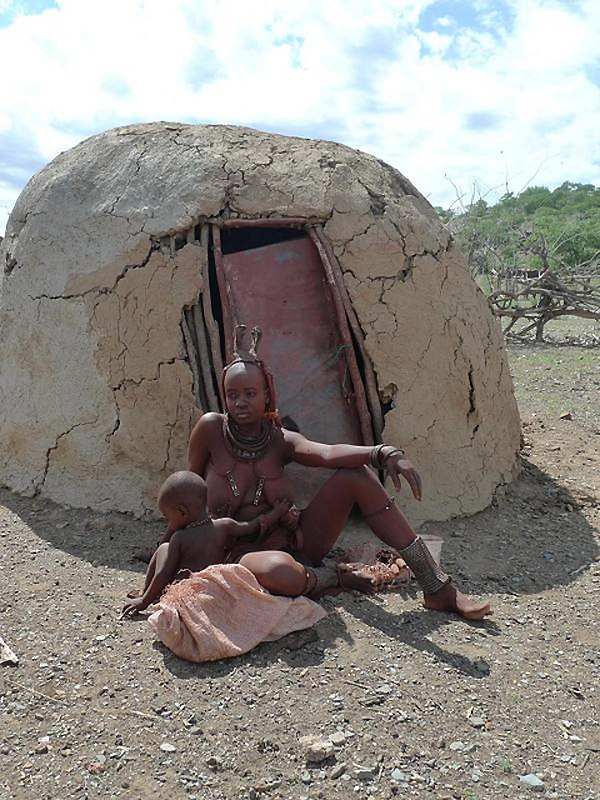 3. Himba live cattle. In fact, the only thing they have – lean, but very unpretentious and tenacious special breed cows ready, almost like a camel, for weeks without water. Selling a rare and special cases, the cattle, Himba extract some money. Oh, and often guests still occasionally buy some souvenirs and crafts nemudryaschie. And then they come to town – for corn flour, sugar, what a treat for children. Clothes they do not need – except that plastic flip-flops come in handy in this rocky desert. Dishes – except for vessels Pumpkin sometimes replaced large plastic bottles from under the water – they do not enjoy. And anyway, it seems, it is not affected by the lack of these attributes of civilization.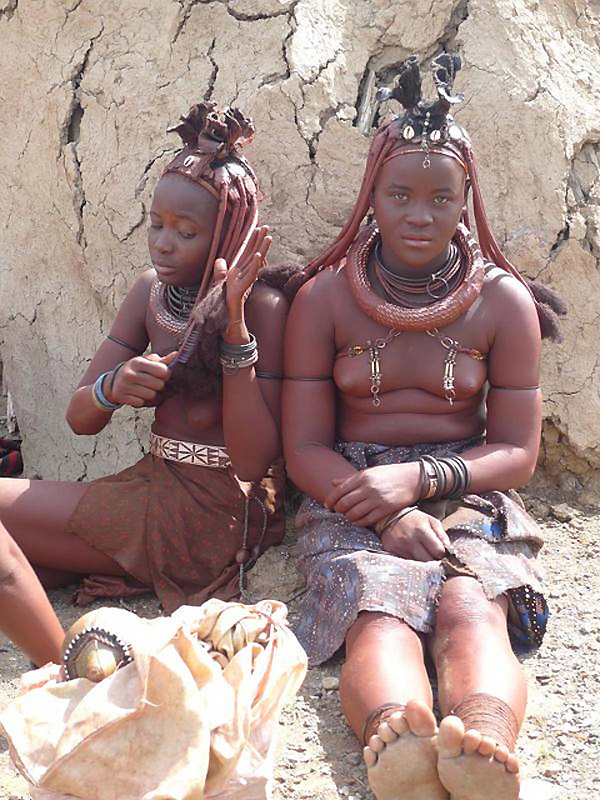 4. New Naomi Campbell from the Himba girls could do just dozens. And just look where modeling agencies? ..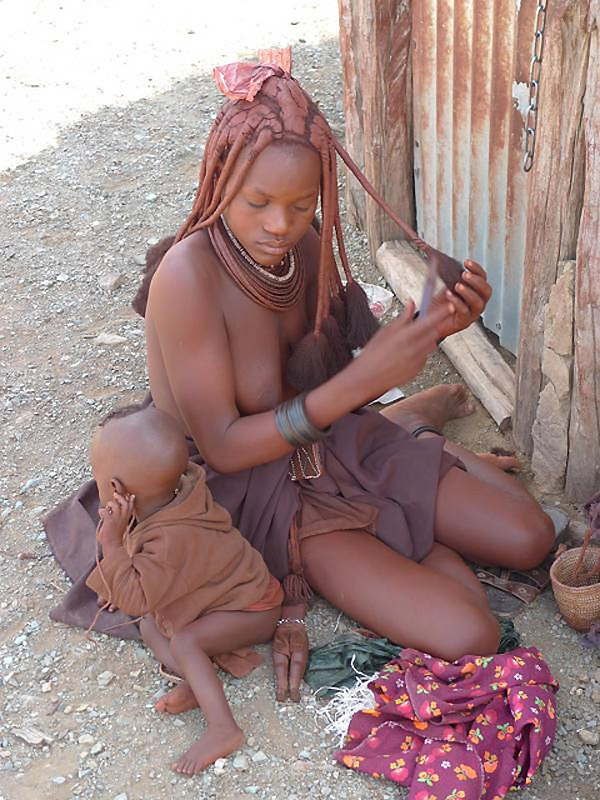 5. There are only two things which, as we have seen, became for them a necessity and are widely used in everyday life. Firstly, it is a different kind of combs and the combs that women Himba clock tease a special kind of "pompons", crowning their whimsical and a Complex hair.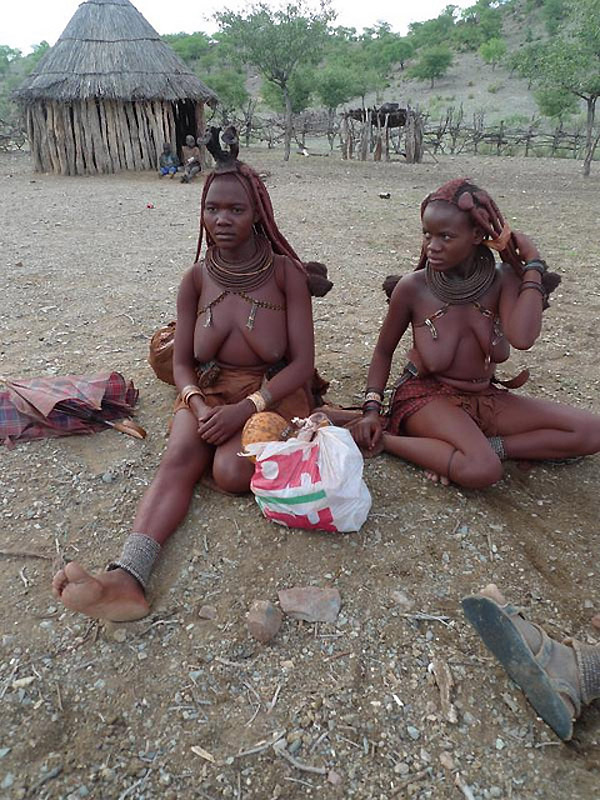 6. And secondly – colorful rustling cellophane bags from the supermarket, they are ready to decorate themselves and their amazing toilets and keep them all their belongings and children to tie a belt, and even apply it a thousand ways, some quite unexpected …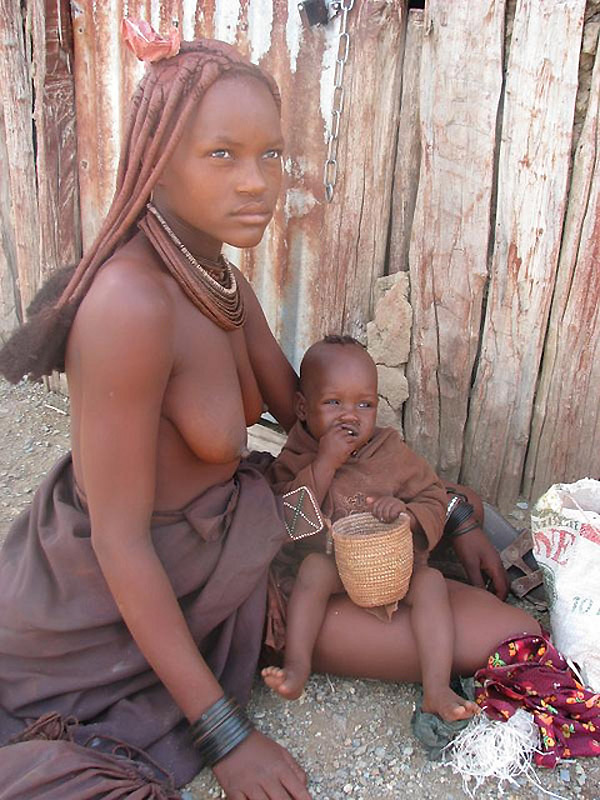 7. Here, note the neat bow in her hair, for example …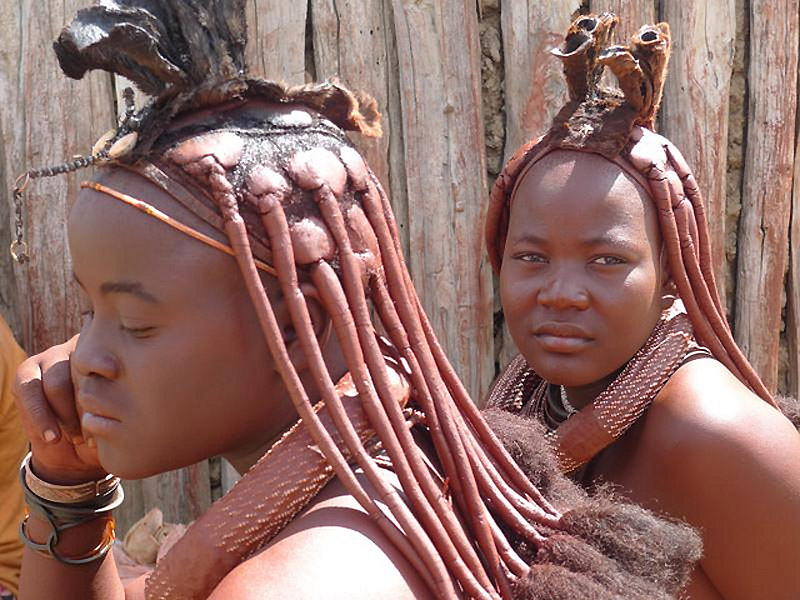 8. In Himba almost no water: each drop of which can be procured, will be carefully preserved and drunk. To water and even wash – it is impossible to imagine here. Survival Himba since time immemorial helps magic ointment, which they owe their now famous red shade of skin: a mixture of oil, was shot down from the milk of their lean cows, a variety of herbal elixirs, and beaten into a superfine powder, bright red volcanic pumice "okra". This composition Himba women smear the whole body and hair several times a day. Ointment helps to maintain the necessary level of care, protection from sunburn and insect bites. Surprisingly, the skin of Himba women – absolutely perfect. And they smell quite nice – except that barely pays the melted butter … The same superkrem serves as the basis of traditional hairstyles. Long "dreadlocks", however, can be increased about twice as strange hair: usually male, often with the reverence taken from the father.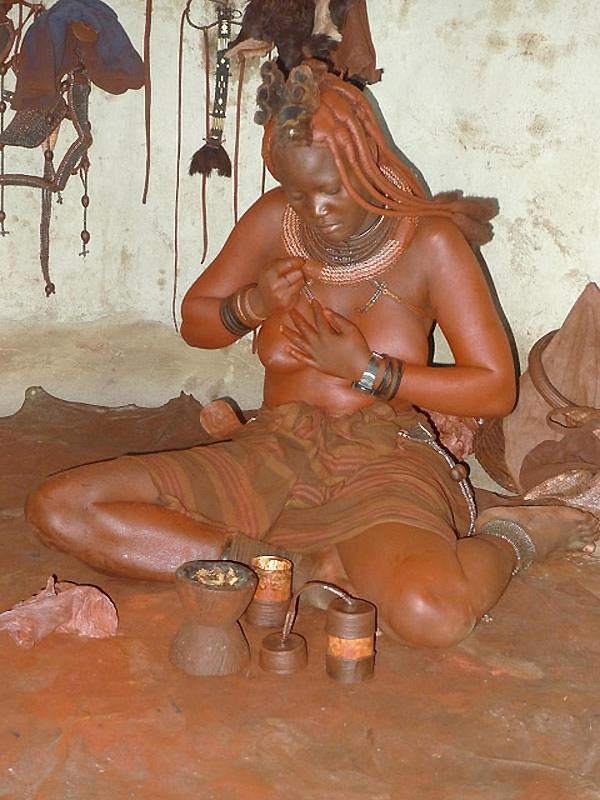 9. We went into a hut, and a 15-year-old Maria showed us how fresh ointment mixed from different ingredients, and how it is used Himba girls.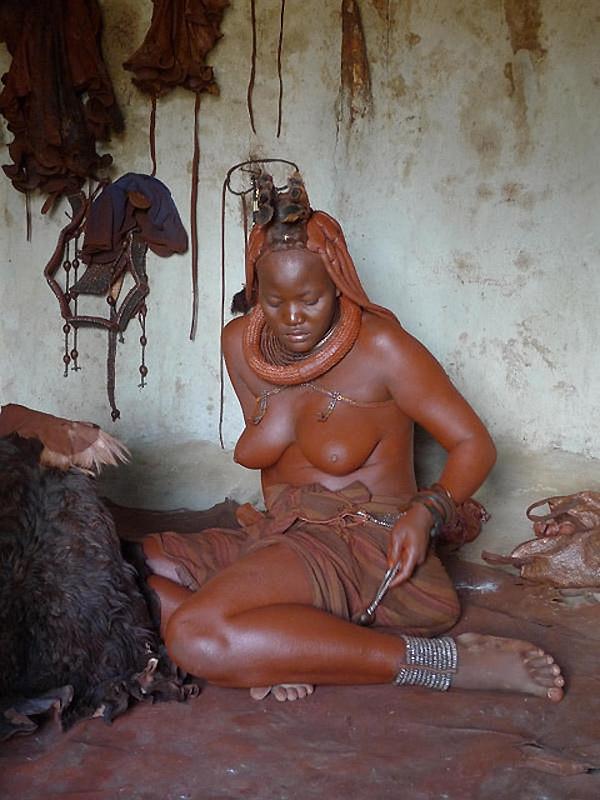 10.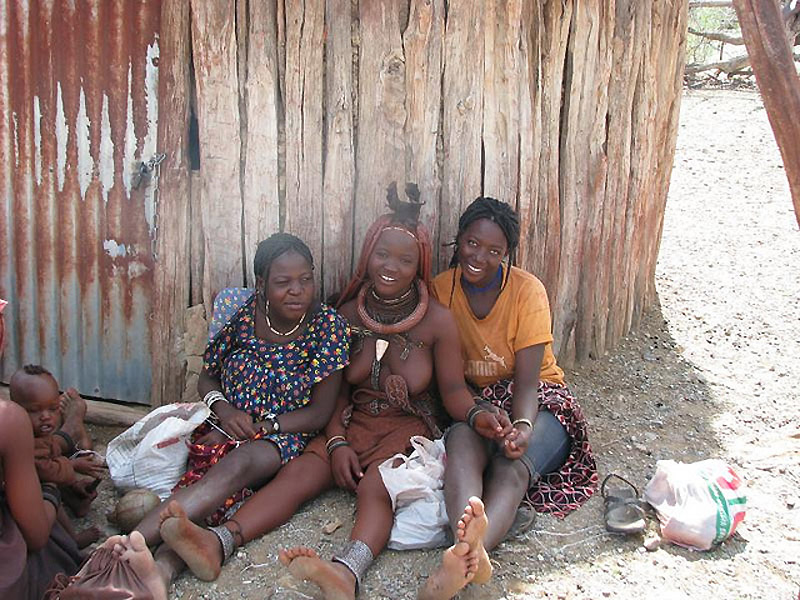 11. Incidentally, every inhabitant of the village Himba are in addition obtained at birth, and even "European" name. His children receive when enrolled in mobile free schools, organized by the state: nearly all go to learn, so that almost everyone can count, can write his name, say a few English words and phrases (especially useful for the English figures – especially when it comes time to bargain ). After the first two or three classes continue to learn from very few. Send to a child in the city, in the "big" school can only afford a rich family: teaching, housing, clothing, food in the city costs an average of seven cows per year. But sometimes it happens. Here is Sonia (wearing shorts and yellow shirt) in his 19 years more than a year living in the city. Now we came to see the sisters and brothers, and took with them the urban girlfriend.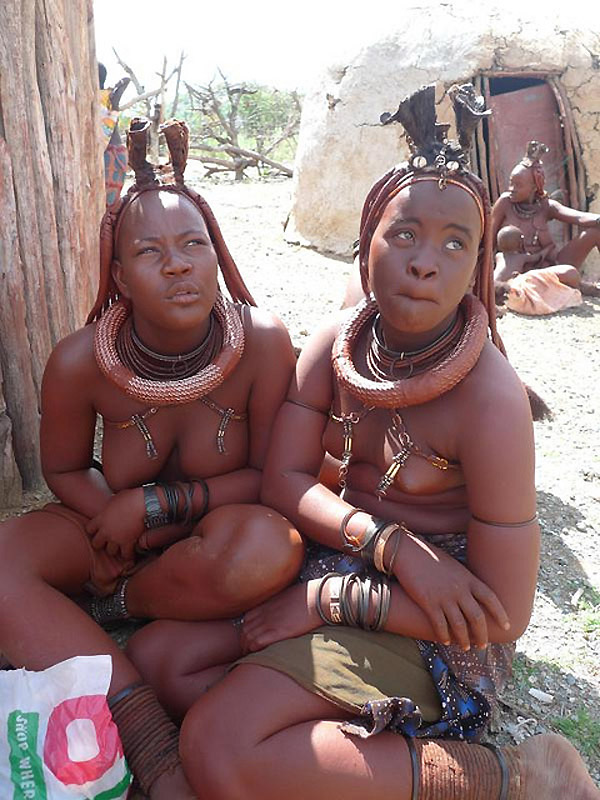 12. By the way, the clock already familiar to us from Maria at hand – brought as a gift from the city by one of these "migratory" relatives: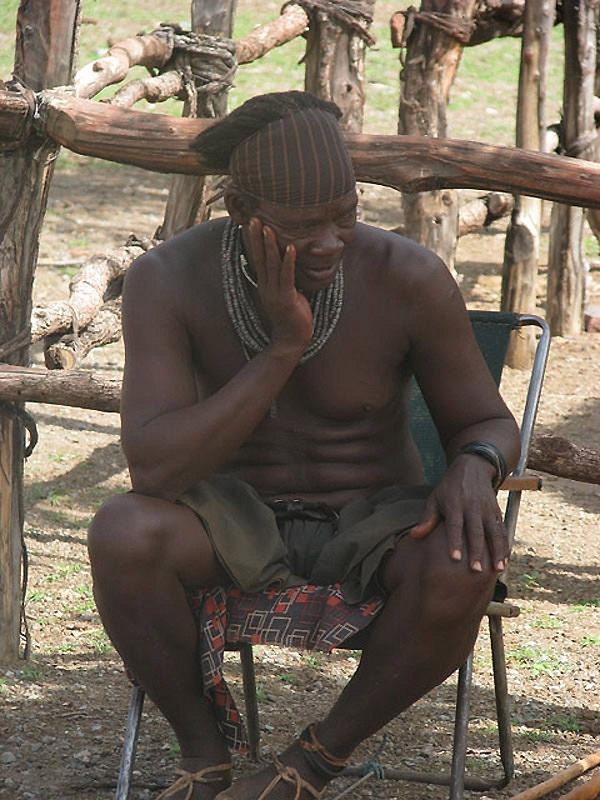 13. From there, from the city, comes the most terrible misfortune Himba: AIDS. In Namibia, AIDS-infected nearly 20 percent of the population, and the Himba refer to the risk of contracting a purely philosophical: God gave and God took. Neither of which prevent them, of course, is silence. But if you're lucky, and AIDS in childhood or adolescence will not get infected – Himba live long enough: it is often longer than 70 years, and sometimes live to 100. However, the elderly in the village can not see: either on the distant pastures, cattle, or huts, where we are not allowed. But he who reigns owns lives and all women and men kind: the head and the father of a huge family, inhabiting the whole village. He also, when necessary, to communicate with ancestral spirits, predict the weather, heal the sick, punish the guilty, protect the weak. And the hair into the hair of women – his. It seemed to us – sincere, funny guy.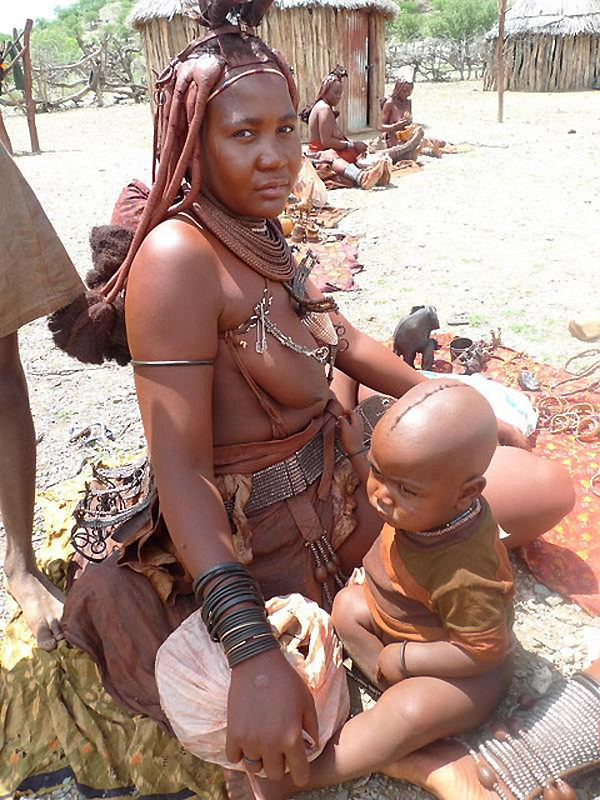 14. Our escort – just his nephew: A few years ago went to live in the city, dressed in a shirt and trousers, now earns tours, bringing visitors to their relatives. And this, he told us in confidence – "First Lady", the senior wife "big boss":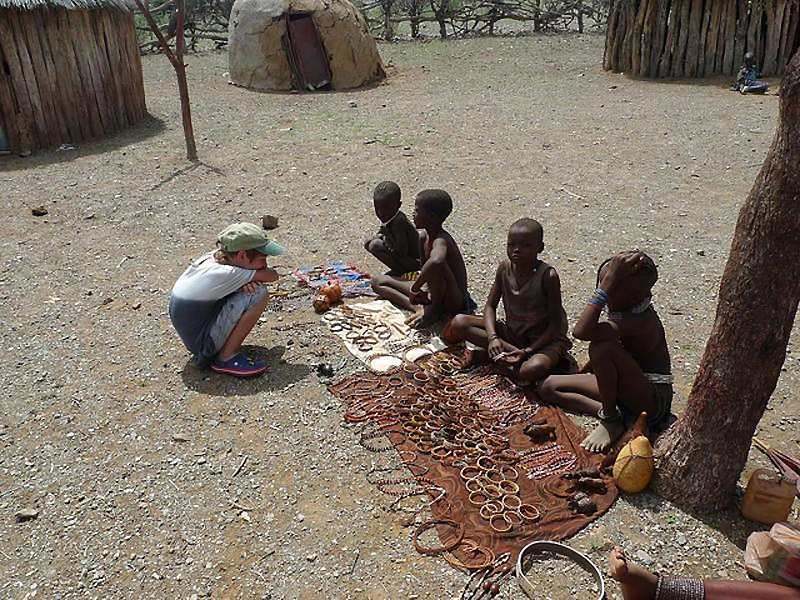 15. Well, now, when all met – the final part of the visit. In order not to offend anyone, be sure to buy anything from local handicrafts: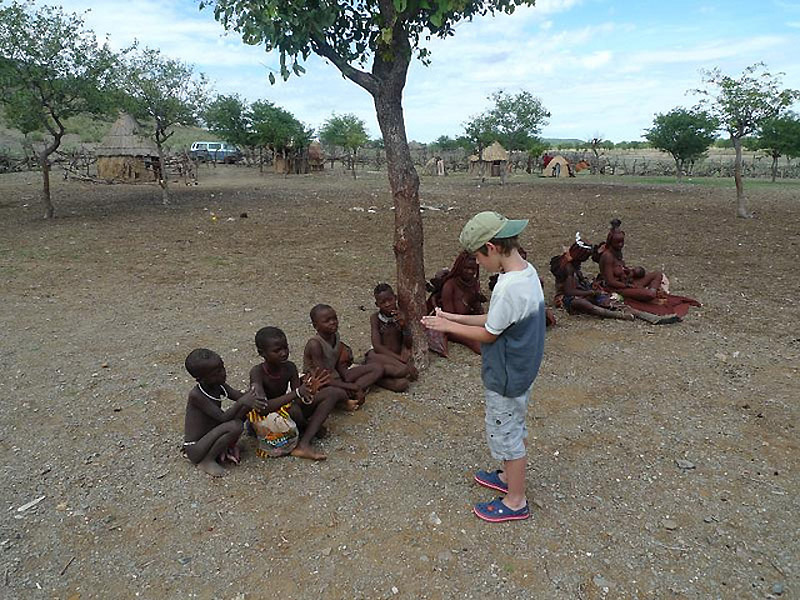 16. However, we also have something to offer in return. That contact took place Civilizations: Motia instantly found common ground with peers. The parties quickly moved to an exchange of experience and valuable skills. It turned out, for example, that younger Himba very fond Motin ability to arrange "shadow play" with different animals and birds, folding the fingers this way and that …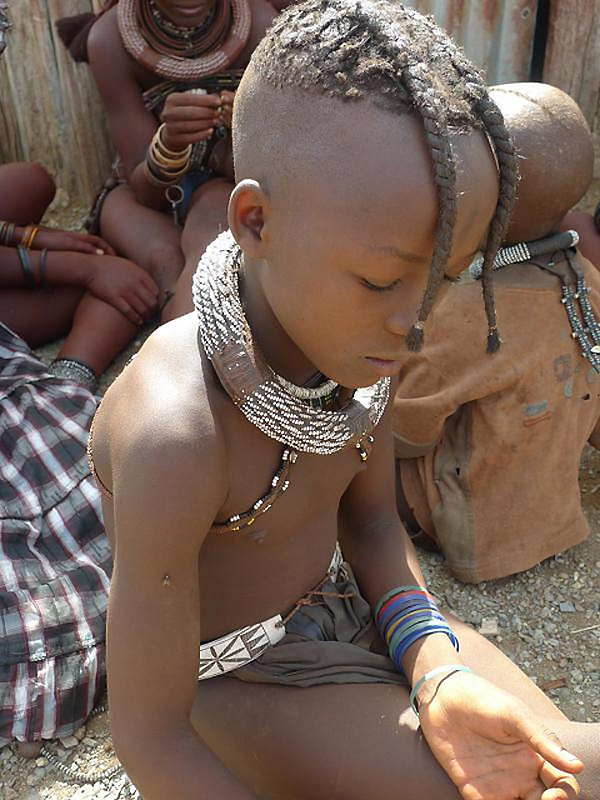 17. It is true that distinguish boys from girls was not so simple. Here is this beautiful ten Motia, for example, once isolated from the company and until recently thought a friend …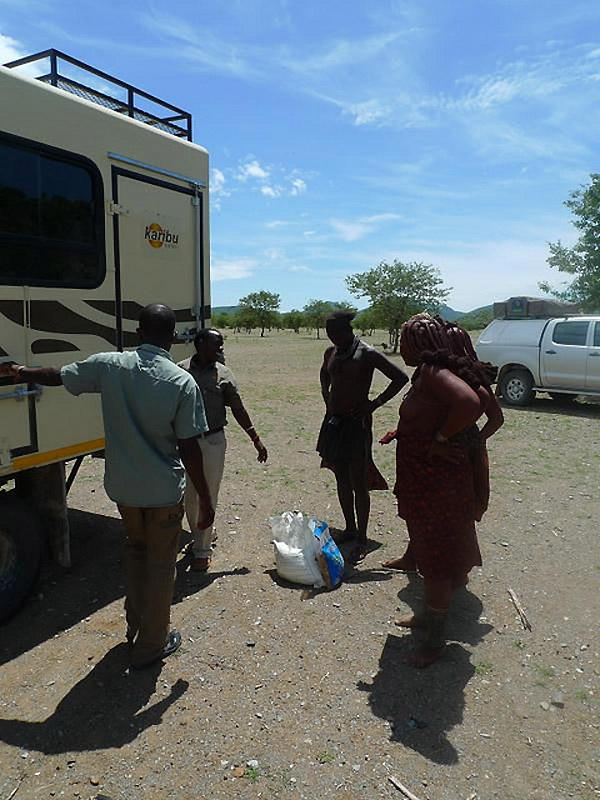 18. In general, the hospitality too badly abused. In gratitude for the warm welcome we leave in advance stockpiled gifts. All the same flour, vegetable oil, a big bag of cookies in a gift to children. And the elder individual gift: a big loaf of pre-sliced white bread.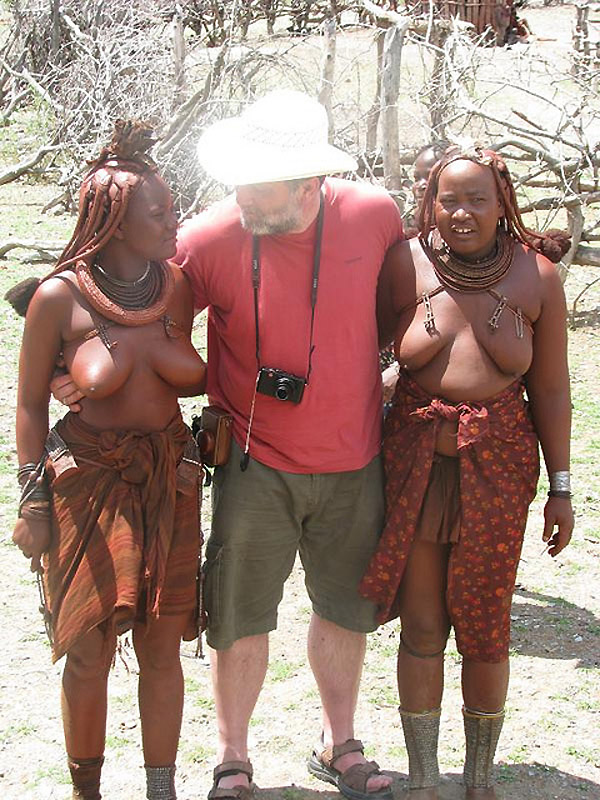 19. But without a final photo in memory – also, of course, impossible: